"I can see a direct correlation between the new habits and my productivity and can say that I am WAY less stressed than I was before. Your program has literally changed my life."
Master Your Minutes is a life-changing time management and productivity training workshop designed by New York Times bestselling author Kevin Kruse. It's based on the world's largest study of ultra-productive people—survey research on 4,000+ executives and qualitative interviews with 200+ self-made millionaires, CEOs, high tech entrepreneurs and even Olympic athletes. This live workshop will teach your team members productivity habits of the highly successful, enabling them to master their priorities, calendar, email, meetings and even overcome procrastination.
The ROI Of Extreme Productivity In Your Organization
What if a few new habits could dramatically increase your team's productivity, and even 5x or 10x it in key areas? What if you could eliminate 33% of all meetings in your organization? What if you could implement a company-wide system to reduce email traffic by 54% and get your employees to Inbox Zero everyday? What if you could do all of this and improve their work-life balance at the same time? The Master Your Minutes training program makes that possible.
Your Participants Will Learn:
How To Leave Work At 5 P.M. And Still Get Everything Done
How To Prioritize Their Most Important Task (MIT)
The Downside of To-Do Lists And What To Use Instead
How To Save 8 Hours A Week With The Harvard DDR Questions
How To Cut Email Traffic By 54%
The 4D Habit To Get To Inbox Zero
How To Process Email With The 321Zero System
The Silicon Valley System To Cut Meetings By 33%
How A Meeting Cadence Can Actually Lead To Fewer Meetings
The 4 Procrastination Styles
The 9-Step Procrastination Cure
Training Options
In-house. Our expert trainers will deliver the program at a location you specify.
Certification. Certify trainers from your organization to teach the course within your company.
Public Workshop. Attend the first day of certification to see the program in action.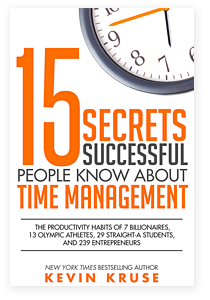 About the Book
15 Secrets Successful People Know About Time Management by New York Times Bestselling author, Kevin Kruse, is the #1 selling book in the world on time management and productivity.
Get Started!
To bring the Master Your Minutes Workshop to your organization:
Email: [email protected]
Phone: 267-756-7089